We do have a guarantee on semen, and do ship, please see below for details.
Walker
is a 3 yr. old proven AKC male with heavy bones, large head, thick lips, good jaw line, nice rope over his nose, broad chest and short stocky legs. He is all the bully bulk in a compact package! Below you can see pics of Walker, there are more on our
Home page
and
Get to Know us page
. Stud fees are listed below pictures. Walker is a compact 40 lb. boy.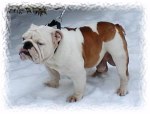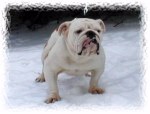 If you would like to use our Walker,
Contact Us
we charge 450.00 stud fee, or 2nd pick puppy. Shipment of semen is an additional fee to cover veterinary extraction, semen extender, necessary paperwork, and shipping cost. For more Brasel's Wally Walker Stud Contract
Click Here.
New 2003 Upcoming Stud JWL's Tigger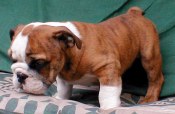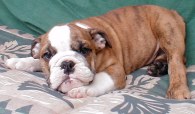 Our stud has been veterinary checked, and semen has also been checked. He has sired past litters and carries full AKC registration. We also have a guarantee on semen. If your female does not get pregnant, we do provide the semen for the next heat cycle, free of charge. The extraction, extender, necessary paperwork, and shipping cost, still apply. All stud fees must be paid in full prior to extraction. If we accept a puppy in return (approved females only), in place of stud fee a contract must be signed prior to extraction.
BRASEL'S BULLDOGS